On the 2nd Anniversary of Katrina: The Need for Revolution and the Urgent Need for Resistance
Katrina, Jena, and the Whole Damn System
The Need for Revolution and the Urgent Need for Resistance
Issue #99 is an important two-week issue on the Katrina Anniversary, calling people to "Make August 29th a day of remembrance … and political resistance!" Getting this issue out far and wide, with its exposure of this gaping sore, can play a role in propelling people into much needed struggle.
The WANTED poster and t-shirts should go out all over. The poster should be up in stores and projects, apartment windows …
Also, find out what people are thinking about the Gonzales resignation. Check out Sunsara Taylor's article on the
World Can't Wait
web site:
Gonzales Resigns -- But the Torture, Spying, and Round-Ups Continue
Drive Out the Bush Regime, Now More than Ever!
By Sunsara Taylor, 8/27/07

What's up with a country where a torturer -- and let's call a spade a spade -- an architect of a police state and fascist laws can be forced to resign and no one in a position of power calls for the reversal of everything he's done and for his and his boss's indictment for war crimes?

What's up is a system that is so hellbent on extending and preserving its empire that a police state that tortures is the program of the whole lot of them. That's why the Democrats grandstand and garner political advantage over Gonzales's resignation but have not and will not oppose the essence of his program. And it is why the people must. ...


***

Sunday, Sept. 2 — 6pm
Revolution Books
9 W. 19th Street (bet 5th & 6th Avenues), NYC
Support the Reporter's Travel Fund:
Katrina Two Year Later: How the System Betrayed the People Again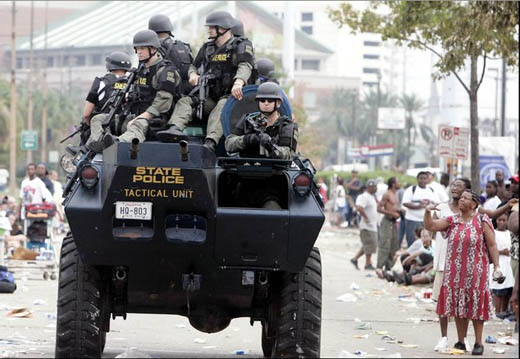 –Clips from testimony of the "Bush Crimes Commission Hearings" and
-- a first hand report from New Orleans by Carl Dix of the Revolutionary Communist Party

Benefit for Revolution newspaper's Reporters Travel Fund

· First hand report from Carl Dix, just returned from New Orleans
· Film of damning testimony of New Orleans residents and others at the Bush Crimes Commission about this regime's abandonment of the people and suppression of relief efforts.
· Hear news of the $500,000 Revolution newspaper expansion and fund drive * Bring your stories about participating in the Fund Drive * Share experience * Make plans for getting Revolution newspaper all over the high schools and campuses as school opens * More! *
Revolution Newspaper Expansion Fund Drive
Support Revolution Newspaper's Six-Month Expansion and $500,000 Fund Drive!by joining us on Sunday, September 2, 2007
6:00 PM - 8:00 PM
Revolution Books
9 West 19th Street, (Btwn 5th & 6th Ave), NYC
Hear from Revolution newspaper supporters. Talk with others taking up this effort. Learn more about Revolution newspaper -- Sign up -- Get organized with your Fund Drive Kit.
Revolution Books at 212-691-3345 or
mailto:revbooksnyc@yahoo.com
***